You can find our news letters by clicking on the GRF Newsletter button on the homepage of our website. Here is the link to the May Newsletter.
https://5il.co/1a9ww

Congratulations to the GRF Golden Ruler recipients, Leslea Thompson, Joanna Coombs, and Ellie Short.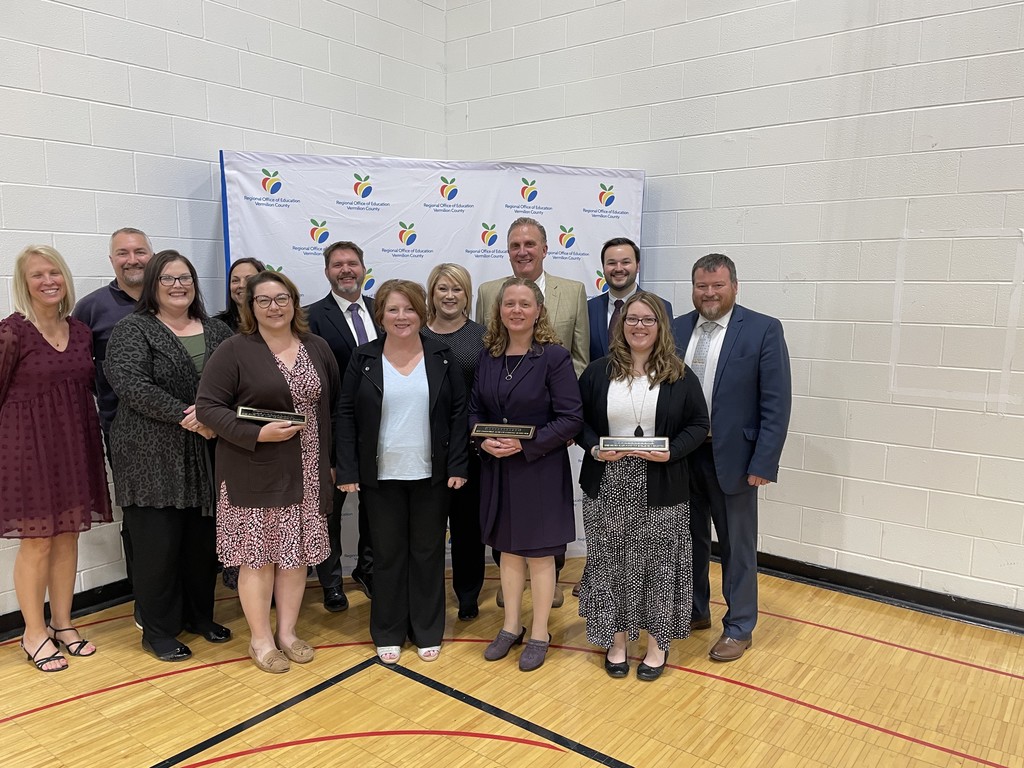 Reminder: Monday, April 18, 2022 is an attendance day. Schools will be in session on that day. This is a change from the originial school calendar. Tomorrow, April 14 is a 1:40 dismissal and there is no school on Friday April 15.

There will be no after school Project Success on April 13 at any school.

Tomorrow (4/6), Project Success will not meet at Pine Crest. MMJH after school Project Success will be remote only. GRHS Project Success will meet in person, but there will be no bus service.

Attention Project Success families: Please note this change for Project Success for Wednesday, March 30, 2022. GRHS will have Project Success with no bussing, MMJH will only have virtual Project Success, and Pine Crest Project Success had been canceled

Here is a great opportunity:
https://www.facebook.com/events/361484962487612/?ti=ls
"This is a FREE program for children in grades 5-8 that is in conjunction with "The Auschwitz Experience: in the Art of Prisoners" exhibit. Children will make 4"x4" expression tiles after learning about and viewing the exhibit. The Vermilion County Museum is partnering with the Danville Art League for this event. While this event is FREE, reservations are required as there are only 25 openings for each time slot. The first time slot is 10:00-11:30 AM and the second time slot is 1:00-2:30 PM."

Dear GRF Community. I have a Good Report on Covid-19 Cases in Vermilion County! The Vermilion County Public Health Official, Melissa Rome, reports that Vermilion County's community COVID19 CDC level is in green, which is LOW! This is fantastic news. Vermilion County only had 3 new COVID19 hospital admissions in the last 7 days as of 3/1. For more information about CDC levels, you can visit the Data tracker website.
https://covid.cdc.gov/covid-data-tracker/#datatracker-home
Please check the Vermilion County Public Health website at
www.vchd.org
to see any new vaccination clinics and information about testing. You can also go to the website for current numbers on COVID19:
https://vchd.org/covid-19/
Enjoy your weekend! Dr. Neal, Superintendent

Good Afternoon, Please be advised that due to CDC changes of the federal masking policy on public school buses, Masking on GRF School Buses is strongly recommended but not required at this time. Thank you. Dr. Neal, Superintendent.


There will be no after school project success at any school today, Feb. 24.

Good Evening, The GRF School District will have a Snow Day tomorrow, Friday, 02-18-22 due to the winter storm. School will resume next Tuesday. I wish you a wonderful weekend! Sincerely, Dr. Neal, Superintendent

Good Evening, The GRF School District will have a remote/eLearning day tomorrow (Thursday, February 17th) due to the forecasted sleet and ice accumulation on roads in the morning and heavy snows in the afternoon. Thank you for your patience as I weighed out this decision this afternoon!

Don't forget about the Vaccination Clinic at MMJH . See the attached flier for more information.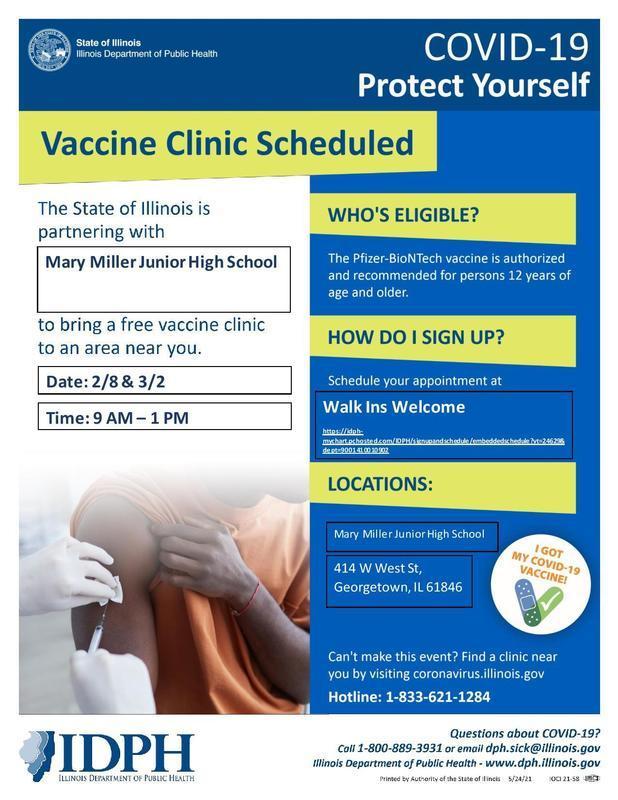 February 7, 2022 Dear Georgetown-Ridge Farm Families, Teachers, and Staff: This letter is to update you regarding COVID-19 mitigations in the Georgetown-Ridge Farm School District. You may have read the Sangamon County court decision that resulted in a Temporary Restraining Order (TRO) stating that named school districts cannot mandate masks, quarantine "close contacts", or require vaccinations or testing of staff. While Georgetown-Ridge Farm CUSD #4 is not named in the suit, we are aware that the impact of this decision does indeed affect us. I would like to thank you for responding to the GRF Masking Survey. At this time, 84.5% of our parents and 71.5% of our faculty and staff are in favor of moving to a mask strongly recommended status. No student and staff will be excluded for not masking. At this time, the Georgetown-Ridge Farm School District will pause the enforcement of the mask mandate effective immediately. During this pause, we will adjust our plan to strongly recommend, not require, masking. I encourage each family to determine what immediate steps they feel are most appropriate for their children and family circumstances. Please have a conversation with your children about your expectations of masking practices and that no pressure should be applied by a student towards any other student to wear a mask or not wear a mask. I also encourage everyone to be tolerant and empathetic to others' choices. Due to federal law, masks are still required on all school district transportation. Close contacts will not be excluded, but we will provide courtesy calls to let you know if your student was potentially exposed to COVID-19 at school. Please understand that the recent TRO is indeed temporary. Our pause of Executive Order COVID-19 mask mandate may also be temporary as we await action from the appellate court in the next two weeks. Thank you for your continued understanding and we appreciate your patience. We will continue to keep you informed as we monitor the progress of this legal matter. Sincerely, Dr. Jean Neal, Superintendent