Last week we sent out a test text message from our alert system. If you are able to recieve texts, and should have gotten one but didn't, please contact Mr. Tosh at the Jr. High.
jtosh@gobuffaloes.org
. Please include your student's name in the communcation.
GRF is in need of PA (Personal Aide) and TA (Teacher Aide) substitutes and cook substitutes for the 2021-2022 school year. If interested please submit your information to the GRF District Superintendent's Office or call Sherry Redmond at 217-662-8488. PA and cooks require a high school diploma or equivalent. TA requires an associates degree, or 30 college credit hours, or a Work Keys Test (Passed).

This is GRF #4. The GRF Covid 19 Testing FAQ sheet can be found here
https://www.grf.k12.il.us/article/537867
If you filled out the SHIELD IL Opt-Out Form and returned it to your child's school, your child will not be enrolled in the SHIELD IL weekly saliva testing program. If you filled the Opt-Out Form in error or you have changed your mind and would like your child tested for Covid 19 weekly, please contact your child's school office.
There will be no Project Success after school programs at any school on Wednesday, Sept. 15 due to the Homecoming festivities.
We are working on putting the finishing touches on our new student database TeacherEase. We have been notified that some parents are getting emails about lunch balances. We are working to correct this problem. If you are getting them here are directions to turn off notifications in TeacherEase: 1.Go to Parent Main > Miscellaneous > Communication Preferences 2.Check the Low Lunch Balance notifications​ 3.Change the Low Balance Threshold to 0.00, or disable it completely 4.Save If you have downloaded the TeacherEase App, you can use these directions to turn off the emails: Choose student It will take you to the News Feed Choose MORE at the bottom of your screen Choose Communication Preferences Choose Low Lunch Balance Turn off email slide Save We apologize for any inconvience that these emails may have caused.
All GRF students should be bringing home information about dental clinics coming to GRF schools. More information can be found at
https://www.myschooldentist.com/
This is GRF #4. Good Morning! This is a reminder to those who received their Covid-19 Vaccination at the GRF Registration on August 4th and 5th The 2nd Vaccination will be administered today, Saturday, August 28, 2021 from 9:00 a.m. to 12:00 p.m. at Mary Miller Junior High School, 414 W. West Street, Georgetown.
This is GRF #4. This is a reminder to those who received their Covid-19 Vaccination at the GRF Registration on August 4th and 5th . The 2nd Vaccination will be administered this Saturday, August 28, 2021 from 9:00 a.m. to 12:00 p.m. at Mary Miller Junior High School, 414 W. West Street, Georgetown.

We are in the process of transitioning to a new student database. Some of you may have recieved emails about having access to the parent portal. Please do not click on the link in this email yet. The district will notify you very shortly when the parent portal will be ready. Thank you
We are asking that parents do a daily covid check on their children every morning prior to sending them to school and checking for the following symptoms. Please keep your student at home and call the school if they have symptoms. Symptoms are: Fever or chills Cough Shortness of breath or difficulty breathing Fatigue Muscle or body aches Headache New loss of taste or smell Sore throat Congestion or runny nose Nausea or vomiting Diarrhea



Please see the attached pictures for information about COVID Vaccines available at registration. FREE vaccine for students 12 and up.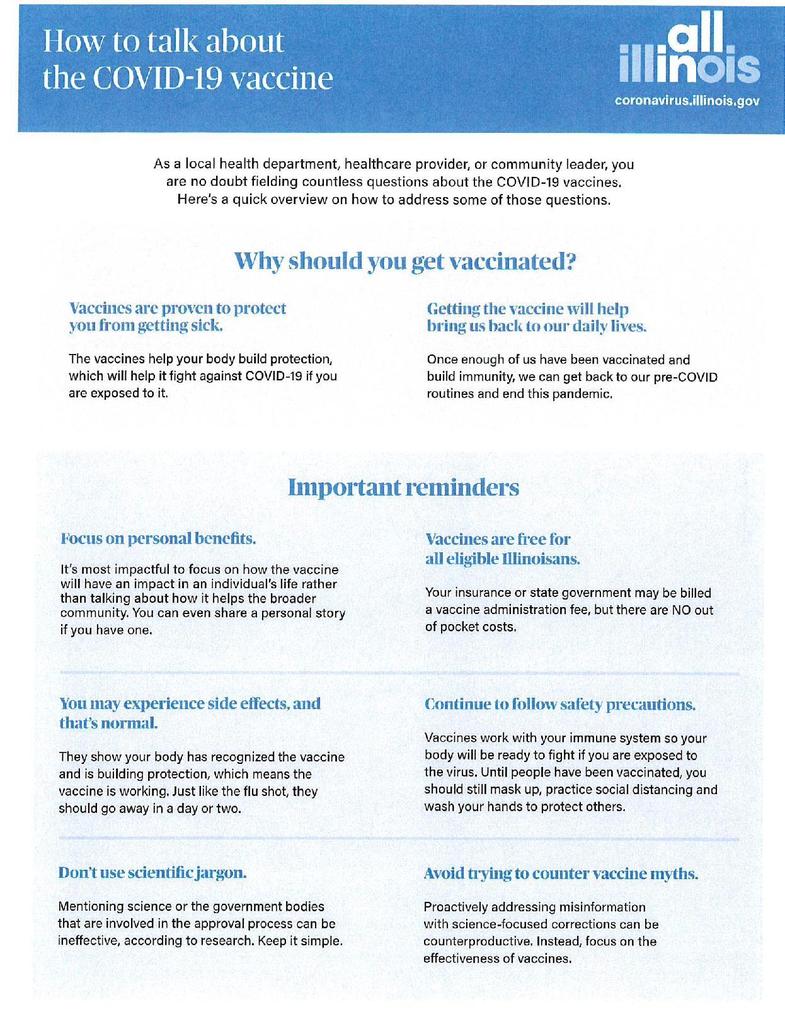 Georgetown-Ridge Farm CUSD #4 Registration Information: PreK - 12 Registration is August 4th (12pm-7pm) and August 5th (8am-1pm). Please bring two proofs of residency. Kindergarten, 6th Grade, and 9th Grade must have physicals. Kindergarten must bring birth certificates. Registration site is Mary Miller Junior High.
Preschool Screenings will be held in Georgetown at Bethel Baptist Church on Tuesday, August 24th. You will be required to call for an appointment. No walk-in screenings. If interested, contact Caylynne Dobbles at (217)-722-2951 or via Ms. Cay's Support on Facebook.

For second session of summer school, there has been a change to bus times as follows: Olivet and Vermilion Grove will be pickec up 6:25-6:30 AM, Ridge Farm 6:35 - 6:50, Mill Street and Mill Street Trailer Park 7:00 East of Route 1 6:59 - 7:05, North End TrailerPark 7:05, West of Route 1 7:05 - 7:12, Country Students 7:20 - 7:35, South 2nd Street 7:40, and Kennedy Court 7:45. There will be no afternoon pick up for Project Success.